Who Are The Common Stakeholders

Learning Objectives
identify who in your organization should be involved in the payment program.

identify who outside of your organization should be involved in the payment program.

understand where everyone falls within the lifecycle.
Corporate Travel Buyers, Managers and Finance Team:


Responsible for managing the travel programs for their companies as well the financial team for reconciliation and expense insight.



Travel Management Companies (TMCs):


Agency resources so that rates negotiated by Travel Buyers are available to be booked over the phone by travelers.


Example: AMEXGBTA, BCD, CWT, Direct Travel, World Travel Inc., etc.
Online Booking Tool (OBT):


Platform for which travelers can book their own travel online.


Example: EConcur, Deem, Egencia, GetThere, etc.
Corporate Card Suppliers:
Major banks providing corporate American Express, MasterCard or Visa cards for a corporation's traveling population.
Example: American Express, Bank of America, Citibank, JP Morgan Chase, etc.

Virtual Card Suppliers:
Automates the process by generating a VCN for a specific purchase (i.e. hotel, air, etc.).
Example: Conferma Pay, CSI, GraspPAY, HRS PAY, WEX, etc.
Global Distribution Systems (GDS):


A worldwide computerized reservation network used by travel agents, online reservations sites and large corporations to book airfare, hotel reservations, rental cars, and other travel related items. Example: Amadeus, Sabre, Travelport +.



Suppliers:
Hoteliers

Airline Partners

Ground Partners
Where The Stakeholder Fall Within The Lifecycle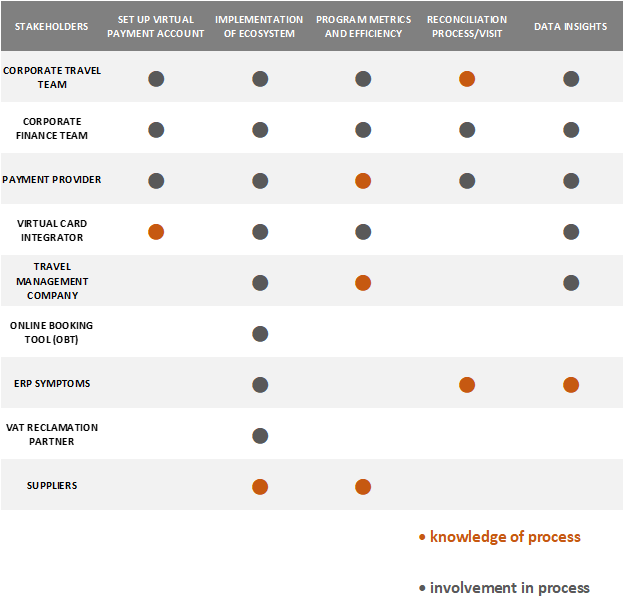 The majority of industry professionals surveyed identified climate change as the number one priority area for action. While sustainable travel management encompasses all pillars of ESG, this toolkit focuses on what travel managers can do to advance climate action specifically.